Incumbent president and presidential candidate of the All Progressive Congress(APC) was at Taraba state today in a bid to gather peoples trust ahead of the forthcoming election scheduled for next week Saturday, February 16th.
The campaign rally which is tagged 'next level' was witnessed by a huge crowd of residents from the state and this has sparked reactions from Nigerians.
Images: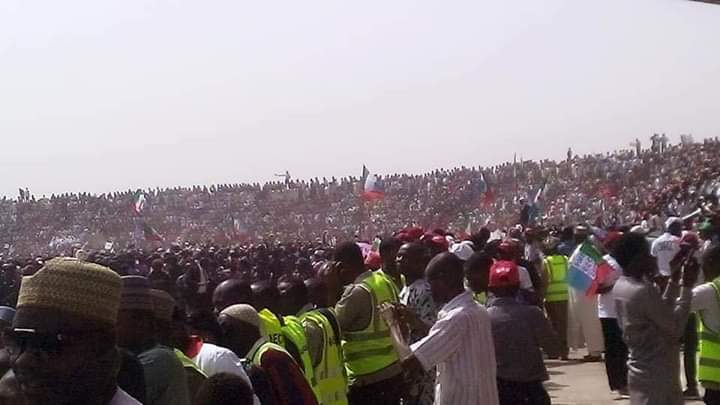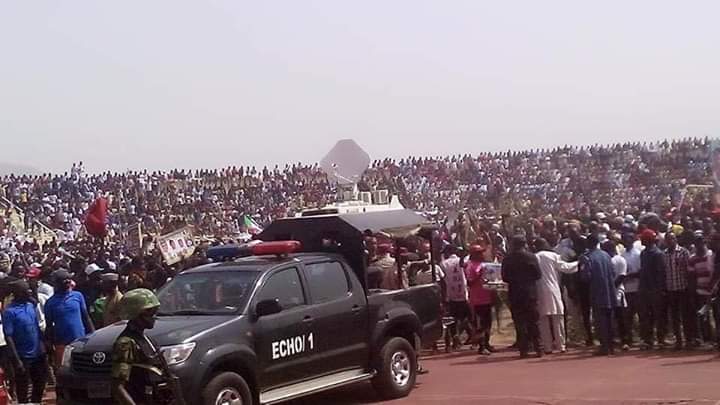 Their reactions:
I can't believe what am seen.. Are these people all human being? The mases are still with him #PMBinTaraba pic.twitter.com/tg5hXT1fjV

— Hamza Bello (@bellohamza032) February 7, 2019
Baba Buhari has arrived. You need to see the excitement. #PMBinTaraba. pic.twitter.com/kD21OYLDPz

— M. BELLO (@Pastoralist1) February 7, 2019
https://platform.twitter.com/widgets.js
We are in JALINGO….
We can't even enter the stadium because it's filled up.
The mammoth crowd will not give way because they want to SEE THEIR HERO.

PLEASE WATCH

The Adamawa/Taraba Presidential rally on https://t.co/cg6DaqCvXf live#PMBInJalingo #PMBinTaraba #SaiBaba pic.twitter.com/YSB0yFpqMv

— CBN Gov Akinsola Ak (@cbngov_akin1) February 7, 2019
https://platform.twitter.com/widgets.js
The post #PMBInTaraba#'I Can't Believe What Am seen.. Are These People All Human Being' – Nigerians Reacts To The Teeming Crowd That Greeted Buhari's Rally appeared first on INFORMATION NIGERIA.