Today, 23 February 2019 Nigerians would vote in the sixth presidential and national assembly elections since the country's return to democracy in 1999.
Nigerians are expected to vote from a list of 72 Presidential candidates and 6584 National Assembly candidates.
91 political parties are participating in the 2019 general elections, however, some would not be fielding candidate for the position of the president.
According to the figures recently released by INEC, there are currently 84,004,084 registered voters compared to 67,422,005 in the 2015 elections.
In the build-up to the elections, Incumbent President Muhammadu Buhari of the All Progressives Congress and Atiku Abubakar of the Peoples Democratic Party have popped up clearly as top contenders for the office of the president.
Naija News brings to you latest news on the 2019 presidential and National Assembly elections, keep refreshing this page for latest update. For eyewitness report, contact us at newsroom@naijanews.com
---
9:20 AM – Governor Nasir El-Rufai arrives to cast his vote.
The Kaduna State governor insists on joining the queue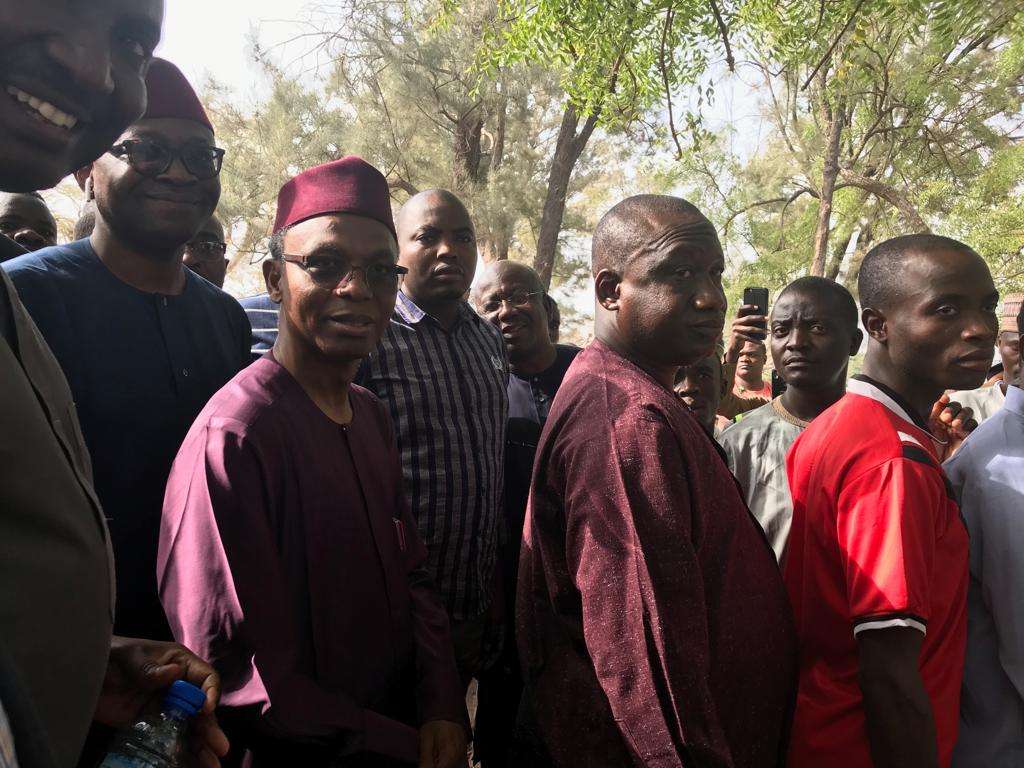 9:15 AM – How to locate your polling unit
8:59 AM – The Vice Presidential candidate of the Peoples Democratic Party (PDP), Peter Obi, casts his vote in his hometown in Aniocha, Anambra state, southern Nigeria.
8:25 AM – Voters Arriving Polling Units In Ekiti State
PU13/01/08/008, ADO 'H' EREGURU WARD, ADO EKITI LGA
Voters checking their names and Corp members arranging the cubicle.
8:10 AM – President Buhari Votes
President Buhari and Aisha arrived at the election stand, where they were accredited at 8:05 am.
Buhari who is seeking a second term in office voted at 8:06 am.
The President inserted the ballot paper into the ballot box at exactly 8:07 am.
---
7:32 AM – INEC support line
You can contact the Independent National Electoral Commision on any of the hotlines below, however, you need to be specific with your location(s) while reporting issues from the field. Please provide the name of; State/LGA/Ward/Polling Unit to enable INEC to track your report(s) and provide solution(s) as soon as possible.
#NigeriaDecides2019
Hotlines: 0700-CALL-INEC (0700-2255-4632)

09050858629, 09050858675, 09050858649 08180958715, 08180958717, 08180958709 09025038466, 07086945927, 08120183063 07062896047, 08105119010, 08146697603

— INEC Nigeria (@inecnigeria) February 23, 2019
7:05 AM – Identify the ballot boxes
It is very important to note that the red ballot boxes would be used for the presidential election, while the black boxes would be used for the senatorial elections, the green ballot boxes would used to cast votes for the house of representatives.
Ballot Boxes for 23rd February #NigeriaDecides2019 elections.
Remember, you can vote with any of your fingers. pic.twitter.com/Fx91Xro6Ns

— INEC Nigeria (@inecnigeria) February 22, 2019
---
7:00 AM – Voting tip
you can use any of your FINGERS to VOTE but don't let the mark cross into another box. INEC: Making your votes count… Consolidating our Democracy.
#NigeriaDecides2019
Remember, you can use any of your FINGERS to VOTE but don't let the mark cross into another box.

INEC: Making your votes count… Consolidating our Democracy. pic.twitter.com/1EEq3ht2gc

— INEC Nigeria (@inecnigeria) February 23, 2019